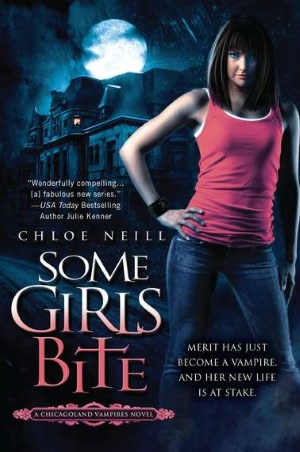 It's time for end-of-month book club night of discussion! This Sunday, April 29 between 5-7 pm, PST, we will have our book club discussion for Chloe Neill's, Some Girls Bite. Below are the discussion questions. If you have time, please stick around and we MAY *wink* talk about other titles in the series as well (as if we could help it!). Warning: spoilers could be present.
If you have not attended book club previously, it's good to type up your answers prior to the event as the discussion moves very quickly. Please let us know if you plan to attend!
Discussion questions
:
This is a different vampire world. What noticeable differences have you seen compared to other worldviews?
Do you like the way Chloe set up the world in Chicagoland?
What do you think of Merit?
What do you think of Ethan?
What do you think of Mallory?
What do you think of Catcher?
What do you think of her family?
How does Merit adjust to this new world?
Do you agree with her aligning herself with Ethan's house? Do you think she should have become rogue?
Bonus questions:
What is Merit's full name?
Who was the relative who left Mallory the house?
Where does Mallory work?
Book club will take place in the April book club discussion: Chloe Neill's Some Girls Bite thread. Membership to the forum is required to post, but joining is free! Hope to see you there!
Next month we will be reading JD Robb's, Naked in Death.