Believe it or not, we love pretty much anything Jeaniene Frost writes, and Jeaniene's novella, Night's Darkest Embrace is no exception. The great news? It's now available as an individual ebook for $1.99!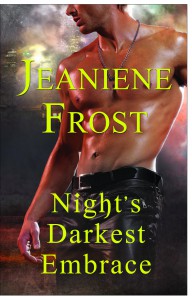 Night's Darkest Embrace is a long story (almost half a book) and here is a brief description:
Enter the dark realm of Nocturna, where blisteringly sexy Raphael dominates the demons of a lawless dimension and tries to help a beautiful young woman avenge her cousin's disappearance.
In addition to Night's Darkest Embrace, you also get a sneak peek at an upcoming paranormal novel from Lindsey Piper. Again, Night's Darkest Embrace originally appeared in the Haunted By Your Touch anthology, so if you read that, head's up: this is not a new story.
You can read the first 20% here to see if this is your cup of tea.
If you're interested in buying the ebook but you don't have an e-reader, you can read it off your phone, computer, or other device. Instructions are here.
Order it now, through our Amazon Shop – your support helps keep this site running!