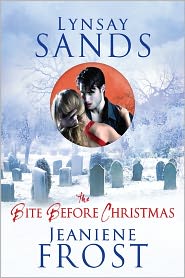 Hey Frosties!
You may have seen this on twitter as lawd knows there were only about a thousand tweets about it. But in case you missed the exciting news (OR was on vacation! *whimpers*) here's the scoop. In order to celebrate the release of Jeaniene Frost's The Bite Before Christmas (releases Tuesday, October 25th) Avon Books is partnering with a slew of amazing book bloggers and hosting an all-day scavenger hunt! There will be chances to win really great prizes at each stop.
From Jeaniene's blog: "All you need to do is visit the blogs below at the time indicated where you'll get clues to questions about the Night Huntress books as well as Lynsay Sands' Argeneau series. Then go to Avon's Facebook Fan page and enter your answer. Every hour, a winner will be selected from the correct answers. Prizes include gift cards, books, an entire library by Lynsay Sands and/or me, all leading up to the Grand Prize."
Here is a list of stops:
Avon Books (@avonbooks) kicks off the hunt at 9:00 AM EST
Smexy Books' (@smexybooks) stop starts at 10:00 AM EST where Mandi has mentioned a little Cat & Bones trivia.
Romance Reader at Heart will host the next stop at 11:00 AM EST
Babbling About Books, and More's (@katiebabs) stop starts at 12:00 NOON EST
Vampire Book Club (@vampbookclub) will host the next stop at 1:00 PM EST
RT Book Reviews' (@RT_Magazine) stop starts at 2:00 PM EST
Dear Author (@dearauthor) will host the 3:00 PM EST stop
Smart Bitches Trashy Books (@SmartBitches) will wrap up the scavenger hunt at 4:00 PM EST
The Grand Prize Winner will be announced at 5:00 PM EST
Be sure you are following the book bloggers on twitter and also search via the hashtag #biteb4xmas. Thanks to all the bloggers who have helped make this scavenger hunt possible.
Sorry, the publisher says that the contest is open to US and Canada residents only.
Good luck!